It's called a biometric gate check — more commonly known as facial recognition technology. The technology has been used by U.S. Customs and Border Protection to process over 100 million passengers at U.S. airports. But now a bipartisan pair of U.S. senators is asking how the data is being used and trying to determine if it's an invasion of privacy, similar to daily life in communist China. 
In an interview with Fox News, U.S. Senator Roy Blunt (Republican from Missouri) stated that "My concern" was not for the U.S.A to be China.  
Blunt said that facial recognition is a powerful tool for identifying people who enter the country. However, you need a different standard to recognize people from other countries than those of U.S. citizenship.  
Blunt, along with U.S. Senator Jeff Merkley (D-Ore.), wrote earlier this week to CBP requesting that authorities give Americans an opportunity to opt out from facial recognition at airports. A greater level of transparency was also requested. 
FAA ISSUES NEW WARNING FOR BOEING 787 OPERATORS AHEAD OF VERIZON, AT&T 5G ROLLOUT
The senators wrote that every citizen of the United States should be able to decide whether they want their passport photo to be manually checked by CBP officers or have biometric data stored and transferred in a way with which it is unfamiliar.  
According to the letter, "Every American has the right of privacy" and shouldn't have to go through drastically different airport processing processes. 
"My concern? We don't want China to take over the U.S."

— U.S. Sen. Roy Blunt, R-Mo.
CBP claims that travellers who do not wish to have their photograph taken by CBP can request for CBP to verify their identity. 
Blunt doesn't only see concerns with airports.  
Blunt was a successful entrepreneur for many years. questionedHow Big Tech and the private sector use data collected from everyday Americans.  
Blunt wants to know what happens if a U.S. citizen goes to the movies and the visit is recorded using facial recognition software – including who you went with. He would like to see the government or movie theatre's reaction. Blunt says the issue is one of privacy rights.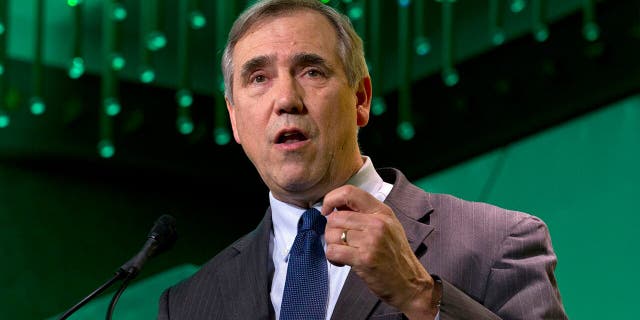 Asked to comment on the senators' letter, CBP spokeswoman Rhonda Lawson, said in a statement, "CBP has received the letter. But, we don't comment on correspondence sent to Congress. CBP responds directly to the Senators."  
According to CBP's website, biometric technology allows travel to be "more efficient" because it's a hands-free process. 
Site adds, "It helps prevent the spread of bacteria."
Based on the 9/11 Commission Report which directed CBP biometrically verifying visitors into and out of the U.S., biometric technology is used at airports. 
CBP claims that "facial comparators do not save biographic data on travelers", and does not retain photos of American citizens longer than twelve hours. 
CLICK HERE TO GET FOX NEWS APP
CBP states that the traveler identification verification process isn't a surveillance program. 
Senators are requesting a response by January 1st. 
Blunt says, "At government level we must set standards then we have to follow them." China's facial recognition standards are the most important. These standards require that everyone be watched at all times.
We don't want this to happen in the country we live in."  
Share Your Comment Below