FloridaAfter hanging large political banners in support of former President, homeowner now faces daily fines Donald TrumpOne reading was taken from his home.Let's Go Brandon" 
"I'm here on the beach, and I got a lot of traffic, and people needed to see what I believe in," homeowner Marvin Peavy, of Seagrove Beach, WMBB. "That's free speech, and I wanted everyone to know that I'm a Republican and I'm supporting Donald Trump."
These flags measure almost three stories high and feature red background with white letters. One reads, "Trump Won," and the other says, "Let's Go Brandon."
NEW HAMPSHIRE HOMEOWNERS RECEIVE THREATENING LETTERS OVER TRUMP 2020 LAWN SIGNS
A South Walton community code enforcement hearing was held last month and found that the "Trump Won" banner violates the county's land development code. Walton County Code Compliance official Michael Lynch told WMBB the land-use code preserves the visual aesthetics of the beach community along Florida's panhandle. 
Peavy will be fined $50 each day. He claims that this violates his right of free speech. 
JUDGE DISMISSES FINE AGAINST NEW JERSEY HOMEOWNER WHO FLEW TRUMP FLAGS
Peavy was described by Bill Fletcher as the chair of the Walton County Republican Executive Committee, "People love people who stand up." Peavy is an example of someone who stands up for the First Amendment rights.
Peavy's supporters came to Peavy's home Sunday as well and expressed their shock at his daily fines. 
"I had attended the code enforcement meeting when this was brought up, and I was quite shocked when they said they were going to fine him $50 a day for a banner that's on his private property," supporter Tabitha Howard told WMBB.
Peavy stated that he does not intend to take down the banners and that many people have offered to pay the fines. Peavy said that a woman from Louisiana offered to cover the cost of the fines over the next two-years. 
LINCOLN PROJECT FEELS WIDESPREAD MEDIA CRITEICISM OVER LATEST EMBRASSMENT, A VIRAL HOX IN VIRGINIA RACE
Peavy raised a Trump 2020 banner on his residence last year in the election cycle, and it was taken down after Inauguration day. Because it was displayed during an election year, the banner didn't violate any codes. 
He then hung up the "Trump Won" banner in May, which was followed by the "Let's Go Brandon" banner on Saturday. "Let's Go Brandon" morphed from the phrase "F— Joe Biden" earlier this year, and is commonly chanted at sporting events, concerts and other venues by critics of the president.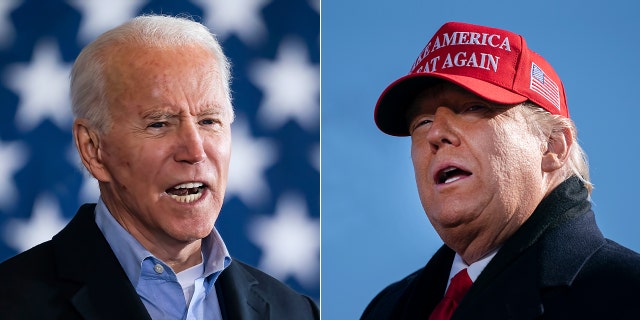 CLICK HERE TO VIEW THE FOX NEWS APP
A second hearing is set for November 17. Peavy's fines will be due if the code compliance magistrate finds him in violation again.
Share Your Comment Below